Opera browser beta with AI
79.0.4185.76006
Opera Beta – Browse the Internet Safely and Privately
If you are in need of a good web browser for surfing the internet then you will find Opera Beta to be up to the task. Opera Browser Beta is a nice app which lets you browse the internet and visit your favorite websites on your Android device in a safe manner. It makes it easier for you to surf the web and ensures that your privacy is never compromised while you are online. You will find this browser very easy to use thanks to its user-friendly interface and simple layout and design. The home screen called the Speed Dial has links to all the popular websites and you can also add your favorite websites to it too. These links can provide quick access to the websites you mostly visit.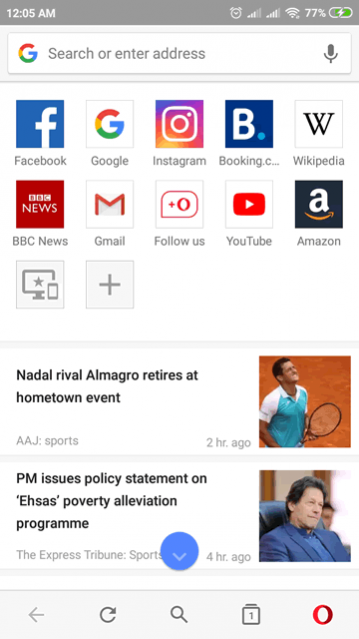 Opera Browser Beta turns online browsing into a joyful experience. It offers you the chance to open multiple tabs and switch from one to the other. Opening a new tab simply requires you to click the tab button located at the base of the screen and click the + button. In case you have multiple tabs opened, the tab button is going to show you the number of tabs that are currently open. To switch from one tab to the other, you just need to click the tab button and then swipe to the tab you want to switch to. If you want to browse privately, you can do so by choosing the Private option after clicking the tab button. Any websites you visit while in private mode won't appear in your internet history.
Opera Beta is all about providing convenience to users. This is why it offers them the chance to save the passwords and login credentials for different websites. With this feature, this browser solves the issue of forgetting passwords when visiting a website that requires you to log in first. You won't have to remember the password anymore and can log in automatically as the browser will remember the login credentials for you. Moreover, Opera Browser Beta also offers an auto-fill option too. This option is also geared towards providing convenience to the users. With this option, you can fill out forms with your personal information quickly. It will save you from having to type every small detail and allow you to finish filling the form in the shortest possible time.
Opera Browser Beta offers an ad block feature to its users too. This feature can help in blocking unnecessary pop-up ads that can be extremely intrusive and annoying. They can mar your browsing experience and can sometimes even be quite distasteful too. Enabling the ad block feature of Opera Beta will ensure that you can browse peacefully without having to see unnecessary advertisements. It can help save you a lot of data too. You are offered a night mode in this mobile browser too. It can help you view the webpages during the night without hurting your eyes too much. You can also adjust the text size of any webpage too to make it easier for you to read.
Features:
User-friendly interface
Simple layout and design
Browse websites with complete privacy
Read news articles on different topics that interest you
Save passwords for different websites to log in automatically
Auto-fill option available for filling forms quickly
Night mode for surfing the web at night time
Ad Block feature for blocking unwanted ads
Option available for adjusting the webpage's text size
Switch between multiple tabs without issue
Conclusion:
Opera Browser Beta is an app ideal for people who spend most of their time online and are looking for a nice internet browsing app. It enables them to surf the web safely without having to worry about people finding out what websites they have been visiting. Opera Beta is certainly a nice web browser and you should definitely download it on your phone.
RELATED PROGRAMS
Our Recommendations
---
---
---
---